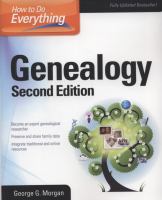 This happens through the

Pasco County Library System

. With my library card, I can borrow for 14-days an electronic copy of George Morgan's book, How to Do Everything Genealogy, second edition. I did it on a Kindle. If you don't have one, you can for free install from Amazon.com ( click,

Kindle for PC

.) The software functions like a portable device. There are other download (or Apps) for devices and even a Mac. It is a tease for you to buy a Kindle and the software is fully operational.
Back to the library, open the library's webpage, then from the horizontal list of options move your cursor over
Catalog & Research
and a list of more choices will open, then move the cursor over
Books & Media (downloads)
and click. Search for what you want. If you choose and borrow the book How to Do Everything Genealogy all of the links in the book will work on your computer. Unfortunately you will only have a 14-loan of the book, but you may want to buy a copy for yourself or see if the library has a hard copy of it for loan. You do the borrowing from home and the electronic book doesn't need to be returned (it stops access.)
Besides George Morgan's book, there are many more books available. There is one on Blogging, lots of "books for dummies," cookbooks, novels and more.